How to install metal mag catcher in Glocks
Unfortunately the KWA Glock 19 does not come with a metal mag catcher. Over time the plastic can wear out, especially if you have an extended mag. The mag may fall out and be damaged. The plastic one is fine for a while. But I would suggest people go out and buy a new mag catch eventually.
There are also a large number of different brands that carry these mag catches. I decided to buy the G&G mag catch. I bought it for $10 at Airsoft extreme here:
http://www.airsoftextreme.com/store/index.php?main_page=product_info&products_id=1039
Follow these 5 easy steps and you will have your new mag catch installed (I am not sure if this is what you do for every Glock model but I am assuming it is):
Step 1: Take off the slide
To take of the slide is very simple. Just remove the mag and pull down on the two bars running on each side of the frame directly above the trigger. While holding those down pull back the slide and then push it forward. It should slide forward all the way and easily slide off.
At this point your gun should like this:
Step 2: Remove old mag catch
Ok now that you have taken off the slide you can go ahead and put that and the mag out of the way. Now look down the top or bottom of the frame (doesnít matter) and look into the shaft where the mag used to be.
You should see a small stick-like item moving into shaft of the mag catch.
Circled in red you can see it here: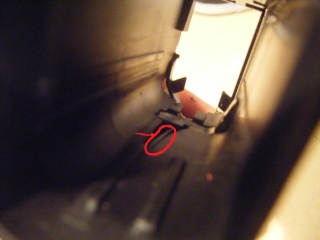 Now look next to that and see a small block. Take your screw driver and push that small stick thing over until it pops out of the hole. This is a pain in the ass to get but once that little thing pops out of the hole (lol, thatís what she said) you can push the lever out. So now you should have this:
Step 3: Sand down any imperfects
Now take the new metal mag catch that you have and compare it to the old one on a side by side basis. check to make sure that they have the same angles and cuts.
Here is mine:
Now I donít know if you can see from the pictures but the new mag catch did not have as long as a port where the stick thing we talked about earlier went. This is where the drill comes in. I tried putting it in without drilling but the stick thing would not go in. After several minutes I had drilled out the port a little bit. Here is what it looked like right before I put it in:
Step 4: Install the new mag catch
Ok now that your mag catch is all sanded down and perfect you can put it in. This is basically repeating step 2. Slide the new one in and push the stick thing back into it position by getting it into the hole. I thought it was hard getting it out. But getting in seemed to be even harder!
After a while of fiddling with it I finally got it. Here is what it looked like from inside:
On the outside: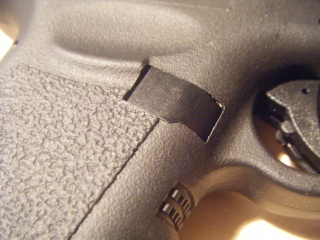 Step 5: Make sure everything works
Now slide the mag in and see how it stays. At first I could not slide it in all the way and had ot press down on the mag release button. But soon the mag started to wear down and I was able to push it in all the way.
The mag got a little scratched due to the metal mag latch but nothing too bad.
If you are having big problems with your mag getting messed up then I suggest you take it out and try to repeat step 3 and sand it down some more.
Conclusion:
So in conclusion after doing this small but tedious mod I have noticed a slight difference in the mag. It doesnít wobble as much and seems much more secure in the gun. I would suggest this to anyone who has an extended mag or has had problems with there guns mag falling out. But to sum it up it isnít quite worth it for a brand new gun using normal mags.
I hope this could help!